Haley and Patti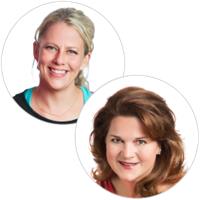 Haley Beckel was born and raised in Alamo Heights, Texas, discovered her love of teaching fitness while majoring in Psychology and Spanish at UT Austin. After earning her fitness certification, Haley went on to teach group fitness classes in Austin for all age groups.

After moving home to attend graduate school at Trinity University, Haley joined the team at Purely Physical and continued teaching group fitness until getting married and moving to New York City. After moving back to San Antonio and having 3 children, Haley was struggling to find a motivating and fun workout and she finally found Fit Fusion! She fell in love with the classes and started teaching for FitFusion in February 2014 and loves every minute of it!
Patti Haugen was born and raised in Alamo Heights, Texas. She began working out at Purely Physical while she was in high school and fell in love with group classes. While attending UTSA, she got certified to teach aerobics. After receiving her Kinesiology degree, moving to Virginia for a few years and returning to SA, she found her niche at FitFusion. She loves teaching, loves the classes and most importantly she loves the clientele.
Haley and Patti instructs the following:
Grab your leg warmers and get ready to sweat with the combination of high/low cardio and strength training while jamming to the rad 80's tunes! Tone your FAABulous arms, and and booty with this fun total-body workout!

*INTERMEDIATE




This class combines every thing that you love about "old school" aerobics and all of the benefits of weight training. Start off with 20 full minutes of non-stop, calorie torching cardio and finish off with 20 minutes of toning, abs and core. You will love the music and Judy's contagious energy!