Caroline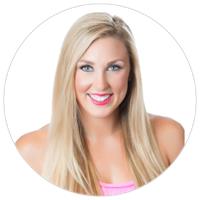 New to the San Antonio area, Caroline discovered FitFusion in search of challenging and upbeat fitness classes. What she found in FitFusion was not only a total body workout but also a sense of community and friendship.
Caroline works as a full time Registered Nurse and was a hurdler on the Saint Louis University track team in college. Living an active life full of exercise has always been important to Caroline. The opportunity to teach classes allows her to share her love of fitness and to encourage others to take control of their health. All you need to do is show up to class; Caroline will provide the upbeat music and sweat drenching cardio moves.
Caroline instructs the following:
Like boot camp/interval type classes? This class is great for getting that heart rate up then toning all of your trouble spots. Alternate cardio and toning for a full body burn!




Get your sweat on before the weekend with this calorie torching workout. This class alternates between HIIT (high intensity training) cardio and sculpting in order to keep your body guessing and your heart rate up.




We are giving new meaning to the phrase TGIF! This class will incorporate Toning, Glute work and Interval training to kick off your Friday morning! If you are looking to sweat and torch some calories while sculpting your body, this is the class for you!