Amy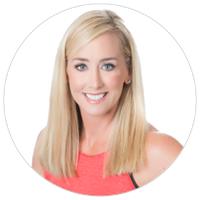 Amy a Kansas City native fell in love with fitness at a young age and playing soccer was her passion. Amy started taking group fitness classes in high school for cross training and fell in love with it! She has been living her dream of teaching efficient, effective and fun classes since co founding FitFusion in 2011. Amy is a former First grade teacher and exercise enthusiast and has obtained her AFFA certification in 2005. "FitFusion has brought my two loves of teaching and fitness together in one." She loves her clients and is motivated by their determination for results. FitFusion clients support and celebrate their successes together. Amy likes to challenge clients and make them believe they CAN achieve anything. In her spare time you can find her actively engaged in her community supporting fundraisers and spending time with her husband Ryan and 3 children.
Amy instructs the following:
Are you ready to hustle, boost your metabolism, and torch calories? Grab your running shoes and get ready to run, box, and tone your core. Cardio Hustle is a great way to start your week off on the right foot. Cardiovascular training at it's best!!




This class is cardio kickboxing at it's best and guaranteed to sweat off your stress and burn and tone those muscles!




Get your heart rate pumping cycling to rocking tunes for 30 minutes and then finish out the burn with 30 minutes of toning FitFusion style.




Have fun toning your entire body in this circuit class that fuses all of the best FitFusion moves with kettle bells, medicine balls, heavy weights, TRX and a variety of other equipment for 60 minutes of intense fat-burning!




We are giving new meaning to the phrase TGIF! This class will incorporate Toning, Glute work and Interval training to kick off your Friday morning! If you are looking to sweat and torch some calories while sculpting your body, this is the class for you!