Leanna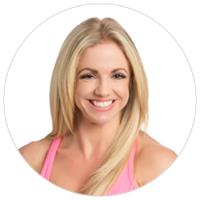 Leanna Baucum is a 2X National Qualified bikini competitor as well as a certified personal trainer. Leanna found her love of all things fitness related when trying to get back into shape after the birth of her second child. She is passionate about health and fitness and is pursuing her degree in Health and Wellness promotion from Texas State. Leanna is also a writer and currently writes for Forward Movement magazine. Leanna's main goal is to motivate, inspire and help others reach their personal goals. She also plans to one day reach her ultimate goal of becoming an IFBB bikini pro.
Leanna instructs the following:
This class consists of glute toning exercises with a focus on every woman's problem area of the glue/hamstring tie in. Build that perky, lifted bum you've always envied! And finish off the class with 15 minutes of colorie scorching cardio to keep the burn going the rest of the day!